Tree Removal
We will completely remove your tree by
climbing with all Safety precautions and Roping Down Individual Limbs keeping all Limbs away
from 1) your home or out building, or 2) Power Lines, 3)Fences or other Trees.
OR - we will safely remove the limbs using our crane - boom truck which can safely sit in
your front yard while the crane can get to your backyard. This is especially useful if the tree
is resting on your home, making safe removal easier by lifting it from your home.
Cabling: reinforces the strength of One Trunk or Tying a Twin Trunk Tree together with
Stainless Steel Cable & fittings.
Cavity Filling: remove dead interior wood & replace with a solid material which will adhere
to the inside making an impermeable repair against further decay, water and insects.
Crown Reduction: remove the top of the tree only as necessary as it may obstruct or come in
contact with Power Lines. Tim Corbin's Tree Service and national Arborists do not recommend this
practice for an otherwise healthy tree. This reduces the trees' power to feed itself by loss of
foliage and may lead to dieback or complete death of your tree. This drastic option used to
resize a large tree usually proves regrettable. We advise only removing as little as possible
to maintain the good health of your tree.
Feeding roots: We feed your tree roots,provide nutrients for the health of your trees.
Planting: we will plant your Trees for You.
Dead-wooding: We remove dead or dying limbs from your trees or dying limbs.
Thinning & Elevating: We remove interior & inferior limbs as necessary. Remove lower limbs
for better air-flow or owner visibility.
Trimming: shaping a tree.
Spraying or Micro-injection: We apply chemical treatment for pests.
.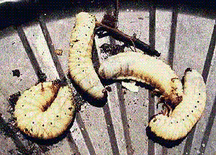 Picture of Grub Larva that may be in your tree.
Debris removal and/or chipper: remove fallen limbs caused by storms or requested cutting. We will chip and remove or provide you with the mulch.
Stump Removal: We Grind up stumps. This is an Additional Expense to be added to your
Estimate at time of Tree Removal. We also do this as a Separate job/service. We can carry this mulch away or give it to you. Please measure your stump around and its height.